Welcome
  Ragdoll Kittens Available for Sale!
Litter will be due this weekend!!
01-20-2018
 Call us today, to reserve your precious Ragdoll!!!
Call 321-383-4808
 This Lovely Kitten has been reserved

 "Kitt"
Seal Bicolor Male
 Born 12-06-18
Has been reserved by Linda in South Daytona!! 
Go Home date approx.
02-14-2018
---
We also have a litter which is due January 20, 2018
Reserve your beautiful Ragdoll Kitten Today!!

---
Welcome to Dixie Ragdolls
All of our Ragdoll kittens are, raised with lots of love in our home.
Our Kittens are all TICA registered, As well as our Cattery is registered with TICA
Dixie Ragdolls sell's "pet" kittens, and kittens with "breeding rights". Please call us for more information.
We do ship kittens, but never use cargo as a method of delivery. We do offer shipping by Courier service for an additional fee. This is the best way for our kittens to come home to you, since they will fly in the cabin of the plane. Of course you are more then welcome to fly into DAB airport, and we will meet you in the lobby for pick up.
( Please contact us regarding Courier service and shipment charges BEFORE making a deposit
All information about kittens will be released when they are ready for adoption.
Kittens will be released to go home between 9-14 weeks of age or when our Veterinarian feels they are ready to leave for there new home.
Who We Are
Dixie Ragdolls is a small TICA registered, in-home, Ragdoll cat and Ragdoll kitten breeder
located near Daytona Beach Florida.
We raise beautiful blue eyed Traditionals, aqua eyed Minks, golden green eyed Sepias and Solid Ragdoll kittens with an eye color ranging from a bright gold to green.
Our Ragdoll kittens are:  Registered with TICA, Lovingly raised in our home, & Well socialized. All of our Queens and King are tested HCM either through testing by UC Davis or by parentage
Our cattery is FeLV / FIV free.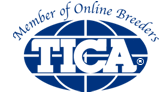 For the health, safety and privacy of our family, cats and kittens, we only offer visits to our home, with customers with deposits, and with kittens that have been vaccinated. We thank you for your understanding.
We are always happy to keep you informed by photos and video's.